Excerpt from Filmmaker Magazine:
"Husband and wife filmmaking team Logan George and Celine Held have a bit of advice for those looking to interweave drama-free creative and personal partnerships. "We try to adopt a 'no bullshit' rule with each other," says George. "It's a phrase we say that enters us into a safe space," continues Held, "and then we tell the other what's bothering us. 'No bullshit!'"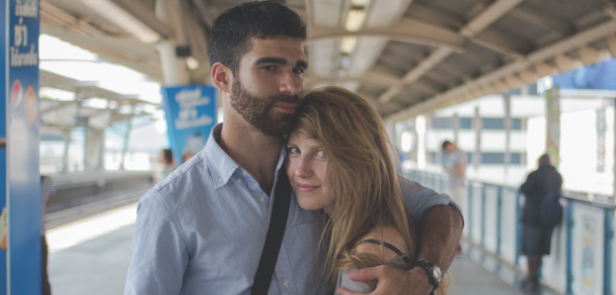 "It's good to know that the couple have a mechanism to sort out creative disagreements because a visit to the website of ELO Films, the company they formed in 2015, reveals a dizzying array of work, from commercial spots to artistic passion projects. Both Held and George — who operate as their own two-person crew (George shoots and edits, Held does sound) — have degrees in drama from NYU and originally pitched themselves to international schools as film and drama teachers. A trip to Oman resulted in them making a promotional video for British School Muscat there. "We made it artsy and edgy and a cut above," says George. The clip led to more videos for more schools, something that's now a real business, with Held having reached out to more than 300 schools to pitch their services.
"With their filmmaking income, the two make shorts and are preparing for a feature shoot this fall. ("We don't have anything better to spend our money on than narrative work," says George.) Just in 2017, there have been three wildly different but equally strong films. The SXSW-premiering Mouse is a stomach-wrenching, Trainspotting-esque blast about a desperate, strung-out couple (George and Vanessa Wasche) who try to use a dead mouse to scam a cereal company. Based on a real incident from Held's life, Valencia Road is a quiet meditation on a mysterious nonfriendship that occurs between two women, one of whom rescues the other from a car wreck. And Fever deftly crosscuts among four teenage stories taking place in Japan, the United States, Oman and Nepal, building to a wrenching succession of crisis moments. "Celine is the genesis of all our ideas," says George. "She's the one who does all our research and first drafts." "And Logan is our editor," continues Held. "For pretty much all of our work, he'll come in and rework the ending."
"Three more shorts in various stages of production are all leading up to the feature, Little, about a heroin-addicted mother and her daughter living in the tunnels beneath New York. The duo extensively researched the project, even creating an online doc series, 50 Moments, comprised of interviews with the homeless they spoke with. The film's setting is Freedom Tunnel, on Manhattan's West Side, a site Held and George found via their passion for urban exploration. Indeed, they write in an e-mail, wherever they travel, "we try to find an abandoned site to explore. Our favorite by far is the Sathorn Unique — a 49-story tower in Bangkok that was abandoned just after the frame was built. Other favorite sites include the Red Hook Grain Terminal, a stadium ruined by the earthquake in Kathmandu and an abandoned prison in Lille, France. Urban exploration has always been something that helps us see a city in a new way."