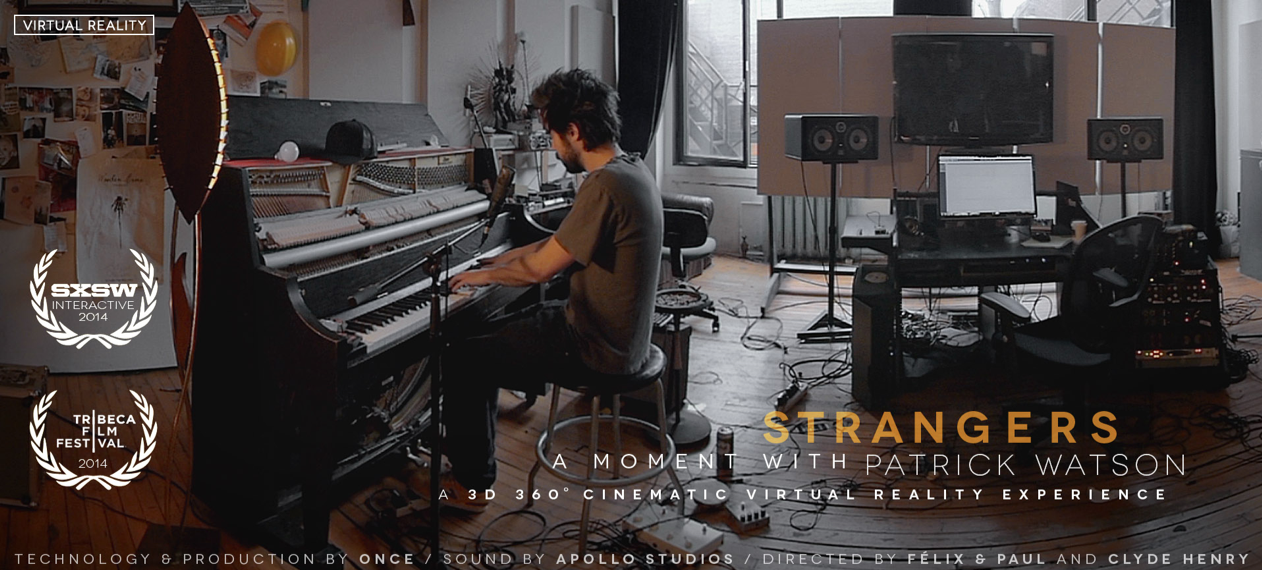 Woolf+ Lapin's Félix & Paul (from the emerging virtual reality company Once) are at Tribeca's Bombay Sapphire House of Imagination from April 23rd to the 26th to show their cinematic vr experience "Strangers: A Moment With Patrick Watson."
"Before I was really conscious of what my mind was telling me, I figured this guy was just sitting in front of me in the room… It was unbelievably cool."
- Meghan Veal, Vice Motherboard
"It seemed so real that at one point I actually reached for my smartphone to take a picture."
- Laura Hudson, Wired
"The most impressive Oculus Rift demo I have personally tried."
- Jonathan Tustain, roadtovr.com
Unfortunately we can't show any of this stuff here because it just wouldn't do it justice. But the proprietary 3D 360º live-action recording technology they have developed is a sight to behold. After having sampled the experience for themselves, many industry insiders agreed that it's the future. And it's going on right now at Tribeca's Bombay Sapphire House.
Our friends over at Same Art did this. It's pretty cool.
"The Eternity Dress is a performance by Olivier Saillard and Tilda Swinton
 which premiered on Novembre 20th, 2013, in the amphitheater of L'École nationale des Beaux-Arts de Paris
 in the framework of the Festival d'Automne à Paris

."
"Prospect is the coming-of-age story of a teenage girl on a toxic alien planet. She and her father hunt for precious materials, aiming to strike it rich. When the father is attacked by a roving bandit, the daughter must take control."
Above the wonderful father/daughter relationship and the great angle on the coming-of-age tale, the rich sound scape of alien animals shrieking in the forest is what lends this short all its credibility.
Prospect premiered at the 2014 SXSW Film Festival.
Stop-mo, thumbtacks and string. That's what Guillaume Blanchet's award-winning short needed to bring Elastika to life. And how! Elastika is not your typical grrrl.
She's young, dreamy and fearless, she drives cars way too fast, she's also a yamakasi. She likes adventure, fireworks and unrelenting seas.
"From the day I conceived her, I've been a worried father," says Guillaume. "And a proud one too."